This week we have the pleasure of interviewing highly experienced sports photographer Don McPeak. Throughout his career, Don shot sports events for magazines like Sports Illustrated, USA Today, ESPN the Magazine, The Sporting News, CBS Sportsline, ESPN.com. If you want to learn from the best sports photographers, read on!
What attracted you to sports photography and how did this journey start? 
Deep down in the recesses of my soul… I am a story teller. I also write novels and screenplays. So, the process of telling a story is imbedded in my DNA.
I teach an online class in sports photography on Udemy and the central theme is about having a good understanding about what you want to shoot and why. My approach to sports photography is understanding that each picture, or series of pictures, should convey something, should tell a story.
That story can be two hours long, or only a fraction of a second in duration. But, it is a story, nonetheless.
My journey started in 1979 with a $200 Ricoh film camera (Manual Focus) and a $200 70-200mm f/5.6 lens on dusty recreational softball fields in Upstate New York. My father coached a women's softball team and asked me if I wanted to take pictures for him.
So, I spent the summer attending games and taking a lot of really bad photos. But every now and then I would get one that raised my eyebrows.
I was hooked.
Pictures should convey something should tell a story.
It was much like a novice golfer, who plays eighteen holes and shoots double bogie golf (if he's lucky) but somehow manages to have one great shot, or maybe even shoot par for a hole. It was enough to keep me coming back.
Later in life, like many parents, I took pictures of my young children playing sports. The other parents noticed that my shots were… "different" than most and asked me if I would take photos of their kids, as well.
A few years later, a local (very local) paper ran some of the pictures I took at my son's football games. Pretty soon, I started shooting for a small local college. Other colleges in my area saw my photos and asked if I would shoot for them, as well.
My big break came when I shot a regional basketball tournament here in Tennessee and none of the national media sent a photographer. I was taking photos for the conference, and media outlets were contacting me to get photos. A Sports Illustrated staff photographer saw my photos, and he gave me a call to discuss possibilities.
So, that is how I was "discovered".
From there, I landed a contract position with a wire service that eventually led to my working with USA TODAY Sports and Reuters America.
What is your favorite subjects to shoot and why?
OK, this actually has two answers.
As far as subject matter goes, my favorite sport to shoot has been college basketball. There are a number of reasons. Some have to do with shooting conditions, and some have to do with the storytelling aspect.
There are few things more electrifying and infectious than major college basketball here in the US. The tradition and passion around the games and rivalries is like nothing else in this country (maybe the closest thing to it for the rest of the world might be World Cup Soccer).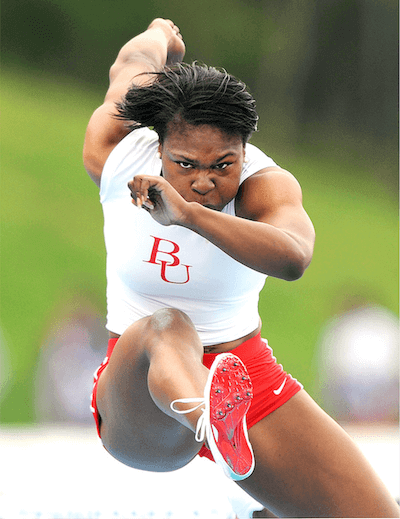 My status with a major wire service put me right on the floor of the games. The players were a mere few feet away and that made for incredible photos. The passion of the players comes through in their faces as they are world-class athletes but as college players they are playing only for the love of the game.
Which brings me to my actual subject matter. For me, it is all about-faces and expressions. Yes, I want to get good action. Of course. But the 'Holy Grail' for me is the combination of the two. My favorite sports photos are either expression of exertion, pain, exhilaration or celebration while engaged in great action. Next is a great celebration shot after a play.
If you are shooting sports for action only, you miss out on one of the greatest aspects of that type of photography. A huge part of your storytelling is contained in the faces of the players.
What's the funniest moment you had as a photographer?
Hands down, the funniest thing I have ever experienced while on assignment happened in Cincinnati at an NFL Football playoff game. I was matched up with a regular contract photographer for Sports Illustrated and USA TODAY to cover the game. It was January, about 10 degrees F, and an icy cold wind was blowing from the north.
We met up in Cincinnati before the game and went into the stadium to set up our computers and check our gear. This other person had come from California and did not have the kind of cold weather gear needed for the assignment. He borrowed a heavy coat but had to purchase a hat while in transit at an airport.
We took the field before the game and he took the hat us that he had bought on his way to Ohio. It was a novelty hat, that of a dog, complete with floppy ears that hung down to about his chin. It was the only hat he could find while en route.
This world-class sports photojournalist shot an NFL playoff game with a dog hat on his head…
Priceless…
What are some of the hardest parts of your job?
Hands down the most difficult, and stressful, part of covering games for a wire service is having to edit, write captions for, and transmit photos before, during, and immediately after a game. When you are a sports photographer for a major wire service, you are doing more than just taking pictures. You must be able to identify appropriate photos and get them ready to go from your computer to a major sports web site, with captions and game information provided.
The most difficult is transmitting photos before, during, and immediately after a game.
There is a mad rush after the game, but you are also required to continuously provide photos throughout the game. This gets tricky, as any time you are spending at your computer sending photos, is time you are not getting new game photos.
USA TODAY required 40-50 photos per NFL football game. All captioned and all potentially magazine quality.
What's your favorite piece of equipment for sports and event photography?
Without a doubt, I would say my 400mm f2.8 Nikon lens. Yes, I know many pro-shooters are moving away from the 400 to the 200-400 f/4. I get it. But there is something about the image quality and the DOF created by this beast that just melts my heart.
Who are your favorite sport and event photographers?
I wish I had a great answer for you. But I don't. I have worked with some really great photographers that no one has ever heard of.
Let me just say this. My mentor, and the photographer who "discovered me", was Bob Rosato. He was a staffer with SI at the time and eventually because COO of USA TODAY Sports Images. It was his mentoring and guidance that took me from being mediocre to being a halfway good sports photographer.
Never stop learning or striving to get better!
If you love sports photography, and want to really get good, listen to those people who have been there. Too many intermediate level sports photographers think they have it mastered and passes up opportunities to learn from older and more experienced shooters.
My best advice is never stop learning or striving to get better!
If you would like to see more of Dons' work, you can join his online classes on Udemy or Skilshare.