This week we took a look at the street photography, also sometimes called candid photography. As photographers say, street photography is very challenging, but also rewarding type of photography. It's not so easy to shoot people in their everyday life, it requires a lot of patience. Is it true?
In this article, you will find an answer about street photography from a pro-street photographer Luc Kordas. Luc started photographing 10 years ago. His images of New York's streets and subways have won awards and were exhibited in the United States and Europe. They were also published in The Guardian, Huffington Post and other famous magazines.
What attracted you to photography and how did this journey started? 
My first contact with top quality photography was through National Geographic magazines that my father had subscription of when I was in high school.
My first photos were taken on a point and shoot camera, one of the very first digital models, while traveling through Europe when I was about 20 years old.
Why did you choose portrait and street photography as a main photography subject?
I started with landscapes, for the first year you could hardly find people in my photos. That changed quickly, I started taking portraits of girlfriends and people I knew. Street came later on a random trip to New York.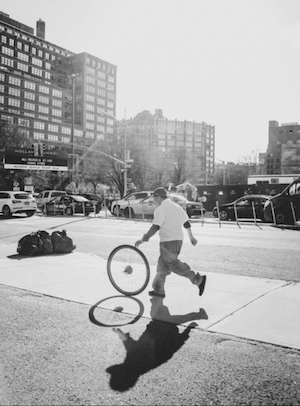 There's no other subject as interesting as people.
I love portraits, because - as it was pointed out to me early in my photo journey - ultimately, there's no other subject as interesting as people. I kind of agree.
Street photography came along with New York. It was natural, almost a must, to go out and shoot the city that we all fall in love with when we come here for the first time.
What are 2 things you learned that made you better photographer?
In street and documentary photography, you quickly learn that patience always pays off. So I learned to be patient in the streets.
If you could give one advice to new photographers what would that be?
Always follow your own vision, don't look at everybody else's work too much, it can take you places that, aren't you.
What is your favorite lens?
50mm
If only you could…
If only you could never say, "if only".
You may find out more about Luc's photography at his portfolio page here. Follow him on Instagram.
Also check classes on Skillshare.