We are happy to share with you an interview with real estate photographer Sherry Watkins from Alabama. Sherry is the founder and owner of a virtual real estate company Go2REAssistant for the 13 years. Besides real estate DSLR photography Sherry also is making Matterport 3D walkthrough tours.
In this interview, Sherry shares how did she chose real estate photography, talks about her projects running from lots to small cabins to multi-million dollar lake estates, what difficulties can be in this job and much more. If you want to get some tips from pro real estate photographers, read on!
How did you choose real estate photography?
I started out as a licensed real estate assistant then progressed to office manager for a leading real estate team. A misstep on holiday resulted in a herniated disc, surgery and career change. The hour long drive to and from work was painful. The perfect timing to launch my own business as a virtual real estate assistant.
Today, I am full time photographer, shooting 500+ properties annually.
In the beginning I did mostly direct mail, marketing and client follow up work for 10 agents and some photography. As the market got tougher, my photography work increased. Today, I am full time photographer, shooting 500+ properties annually and out source my post processing to Norwegian company in the Philippines. I am now in my 13th year of business and it is the best career move I've ever made.
Could you tell us about some of your projects?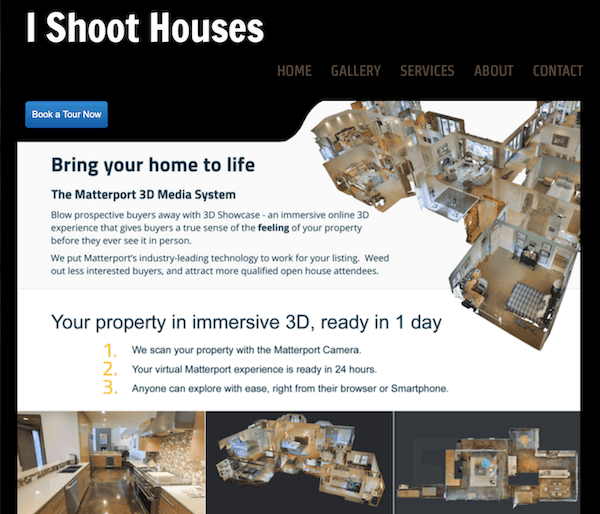 My projects run from lots to small cabins to multi-million dollar lake estates. Besides DSLR photography I also offer Matterport 3D walkthrough tours (an immersive online 3D experience that gives buyers a true sense of the feeling of your property before they ever see it in person).
Last year AL.com did an article on the top 10 most expensive lake homes for sale throughout the state, I had photographed 5 of them. Clients are mostly real estate agents, but also include architects, designers, marketing companies, investment companies, VRBOs, and FSBOs.
What is the most difficult in this work?
Accounting and the constant rescheduling. On the photography side of the business unprepared sellers, even with my checklist. Dark painted rooms and mirrors are always tricky.
What camera, lens do you use for a real estate photography?
My go to for real estate photography is my Nikon 600S with a Sigma 10-20 lens. I also use my Nikon 18-150 lens for long shots and feature closeups.
What could you advise for the beginners looking for real estate photographer job?
Practice, practice, practice. Study designer magazines for angles. Remember, in real estate sales, time is money AND the space is your subject (not the stuff). Learn to shoot at 100-125 shutter speed, without a tripod and with available light and also with 1-2 speedlights.