Interested in learning more about fashion photography? We picked up premium online fashion photography classes from internationally professional photographers at CreativeLive, Skillshare, Udemy, UAL and KelbyOne. In addition, we selected details about tutorials and price for a class. If you are interested about other types of photography, check our article.
Enjoy!
7 Online classes in CreativeLive
Look what we found in CreativeLive! Seven great classes (prices vary from $24 to $84) with professional fashion photographers:
Brett Florens "High Fashion Wedding Photography". Brett is internationally known South African photographer. His work has been published around the globe. Brett has accumulated numerous accolades including the distinction as a Nikon Wedding Photographer. He is one of 12 photographers chosen as the best in their field at the Photokina Exhibition in Germany.
We were honored to interview an inspiring and talented photographer Brett Florens and very excited to share this interview with you. So check it out here.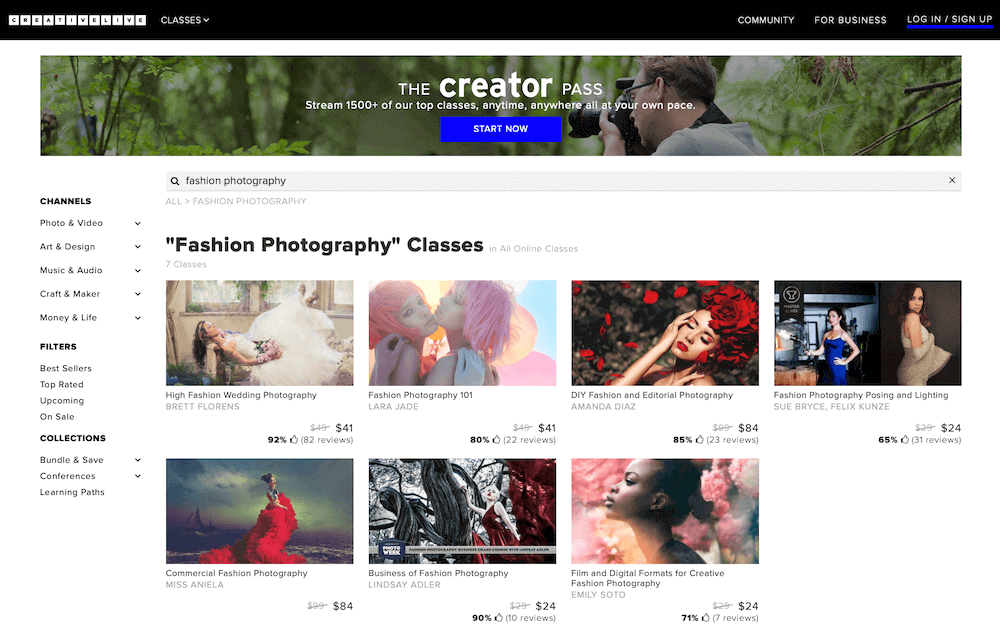 Lara Jade "Fashion Photography 101". Lara is a fashion and advertising photographer from England who currently resides in New York City. Lara's clientele includes Goldsmiths Jewellery, P&G, Sony Music, Panache Lingerie, 125 Magazine and dozens more. Lara was the winner of the Public Choice Award at the 2009 AOP Open Awards and received a number of sponsorships and support from brands such as Canon and Broncolor.

Amanda Diaz "DIY Fashion and Editorial Photography". Amanda focuses in photography ranges from Fashion, Conceptual, Beauty and Portraiture. Her work has been featured in multiple blogs, magazines and websites from around the world. She was nominated as one of the top 10 fashion/editorial photographers of 2012 with the Framed Network.
Sue Bryce "Fashion Photography Posing and Lighting". Sue has received many awards for her work, including Portrait Photographer of the Year 2007 and Highest Scoring Print 2008 by the New Zealand Institute Professional Photography Master National Awards, and Portrait Photographer of the Year 2011 and Highest Scoring Print 2009 by the Australian Institute Professional Photography Master National Awards.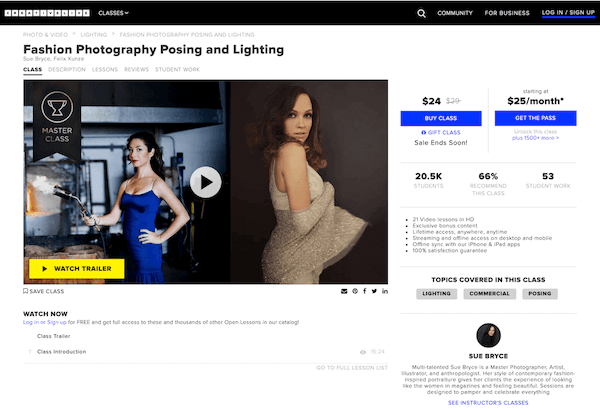 Miss Aniela "Commercial Fashion Photography". Miss Aniela (Natalie Dybisz) is a fine-art and fashion photographer based in London. Natalie's work has been exhibited by the Saatchi Gallery, Photo Vogue Milan, Prins Eugens Waldermarsudde Museum in Stockholm and the Houses of Parliament. Her work has been featured by Daily Mail, BBC, The Metro, El Pais, Yahoo and NY Arts.

Lindsay Adler "Business of Fashion Photography". Fashion photographer Lindsay has risen to the top of her industry as both a photographer, educator, and Canon Explorer of Light. Based in New York City, her fashion editorials have appeared in numerous fashion and photography publications including Marie Claire, Elle, InStyle, Essence and dozens more.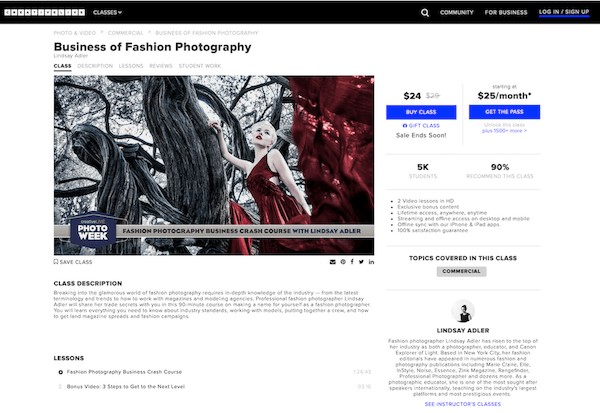 Emily Soto "Film and Digital Formats for Creative Fashion Photography". Emily is a photographer residing in New York City. Her work has been published in Vogue International, Teen Vogue, Allure, Glamour, Paper and others. Her work was shown in exhibitions NYC, London, Paris, and Berlin.
2 Fashion photography classes in SkillShare
In SkillShare we found fashion photography classes with:
Professional photographer from the Philippines Artu Nepomuceno "Fashion Photography: Using Natural Light for a DIY Shoot".

And fashion blogger and photographer from Seattle Bethany Olson "Introduction to Fashion Photography: Capture the Look".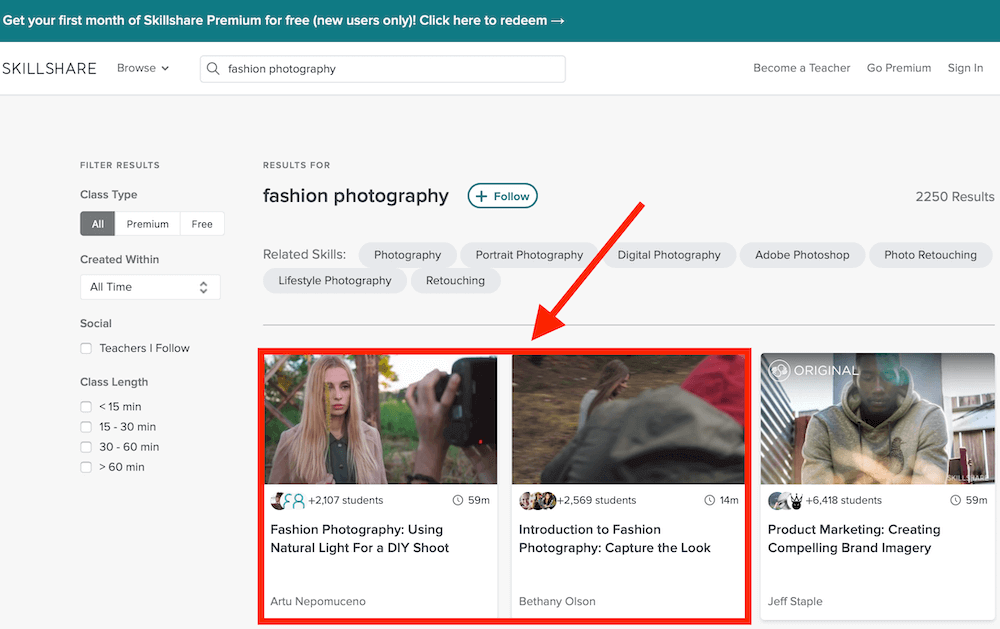 More classes in Udemy
Udemy offers 3 classes with:
Rob Woodcox "Ultimate Fashion Photography Masterclass: Your 2018 Guide". Rob is a fine art and fashion photographer based in New York City and Portland, Oregon. Rob has taught thousands of students through over 75 workshops in 15 countries around the world.

Steven Leone "Editorial Fashion Photography (with No Budget or Team)". Steven is a fashion photographer and director from New York City who has been traveling the past five years throughout Europe shooting for magazines and modeling agencies in cities such as Paris, Milan, Barcelona, London, Stockholm, Prague, etc. He's a self-taught photographer whose style consists of outdoor locations and the use of natural light and shadows. Check out our interview with Steven here.

Tahir YILDIZ class "Fashion Photography - Working With Off Camera Lights".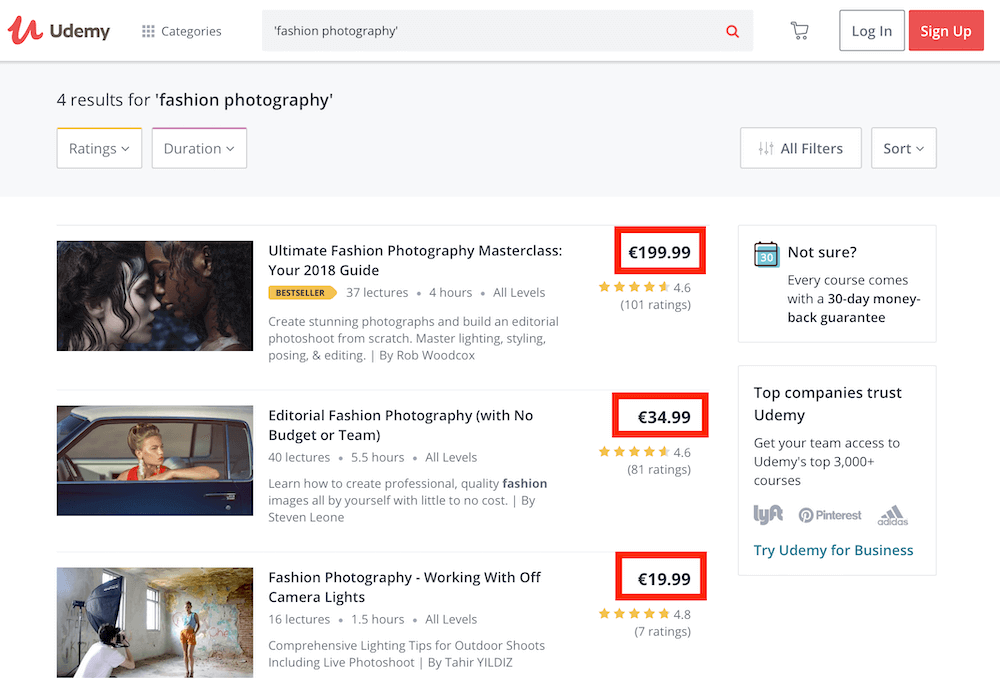 UAL course with photographer from London
In ual: we found a "Fashion Photography (Online Short Course)" with Darren Black. Daren is a London-based fashion & advertising photographer whose work hits 4 keynotes, sex, subversion, vulgar, cool. Price for the course - £350.
KelbyOne online classes
At KelbyOne classes, you can subscribe from $9.99 to $19,99 per month and learn with:
Lindsay Adler "Watch Fashion Lighting 1, 2, 3", "Watch 5 Tips for Shooting Fashion on a Budget", "Watch Making it in the Fashion Photography Business", "Watch Fashion Flair Photography".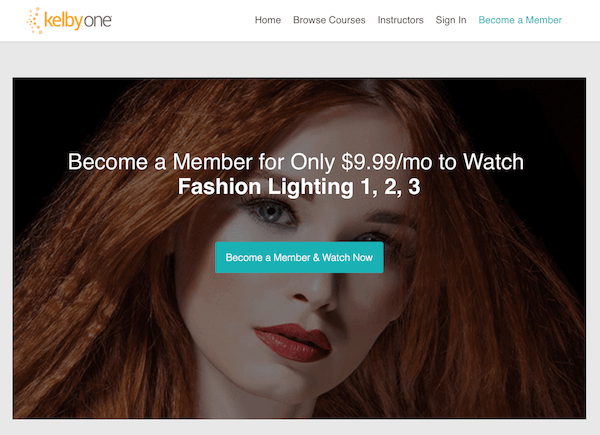 Frank Doorhof "Watch Shooting Fashion on Location", "Watch Photoshop Techniques for Fashion Photography", "Coaching the Model and Making it Work", "Shooting Fashion Models on-Location". Frank born in Amsterdam. He has released numerous books, like Mastering the Model Shoot, and is a sought-out speaker for seminars and events. He strongly believes and teaches that the language of photography is light and that photographers should be able to "speak the language" instead of always having to fake it in Photoshop.

Scott Kelby "Watch Photo Recipes: Fashion Lighting". Scott is the President and CEO of KelbyOne, is also the original "Photoshop Guy", is the editor and publisher of Photoshop User Magazine, Conference Technical Chair for the Photoshop World Conference, Training Director and instructor for KelbyOne Live Seminars, and author of a string of bestselling technology and photography books.

Lou Freeman "Watch Creative Speed Lighting for Fashion, Glamour, and Beauty". For over three decades, Lou has practiced and shaped the art of fashion, glamour, fine interior, and lifestyle photography. Lou's work is powerful and visionary, being featured in an editorial, publishing, and advertising worlds.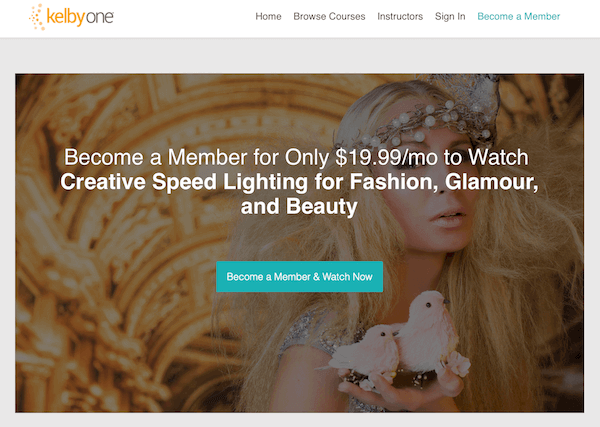 Karl Taylor Education
Also learn stunning and effective fashion photography setups, for example: "Planning for Fashion Shoots", "Retro Sci-Fi Fashion Shoot", "Innocence Fashion Shoot" with photographer Karl Taylor for $19 per month. Karl is a professional photographer with over 20 years experience and he is commissioned by leading global companies for his precise attention to detail and his exquisite control of light. Recognized as an expert in the industry Karl is a global ambassador for Hasselblad Camera Company and Broncolor Lighting. Karl's work covers advertising, beauty and fashion photography for commercial clients.