Are you looking for the classes & courses to improve your photographer's skills? Are you interested in a particular type of photography and would you like to get for example the skills of fashion, food, landscape & nature, portrait, street, wedding or travel photographer?
So here, we have picked up classes, workshops, online courses for different types of photography. In addition, we've selected some useful information about prices, benefits of courses to make you easier to pick up. Also, be sure to check out our article on photographer jobs.
Fashion photography
In Academic Courses we found 8 great fashion photography courses organized in different countries (USA, Italy, United Kingdom, Spain), e.g. one in Miami: duration 3 weeks, price - $5,000. As well you can check this course directly on the Istituto Marangoni website.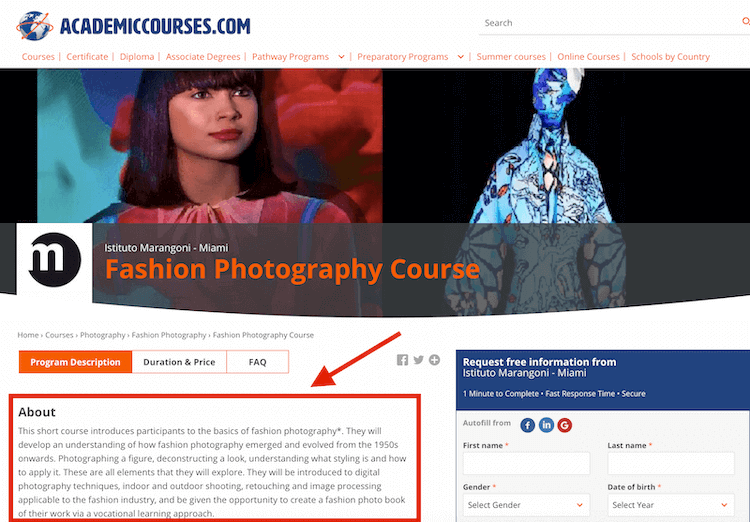 City Academy has the course in United Kingdom: 1-day for - £119.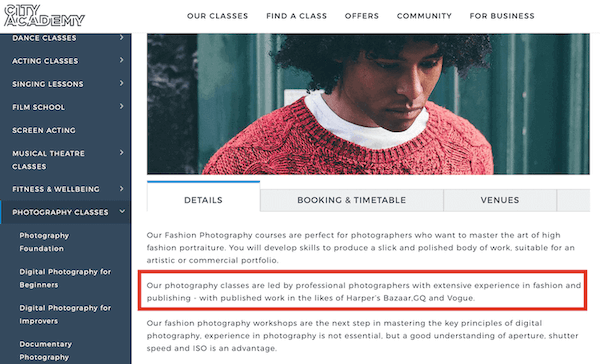 In Udemymarketplace you will certainly find a fairly large selection of online courses for fashion photography, for example "Editorial Fashion Photography (with No Budget or Team)", "Fashion Photography Lighting for Beginners", "Fashion and Glamour Photography", for €9,99.

In CreativeLive we found a course with a fashion and advertising photographer Lara Jade. Price for this course - $29.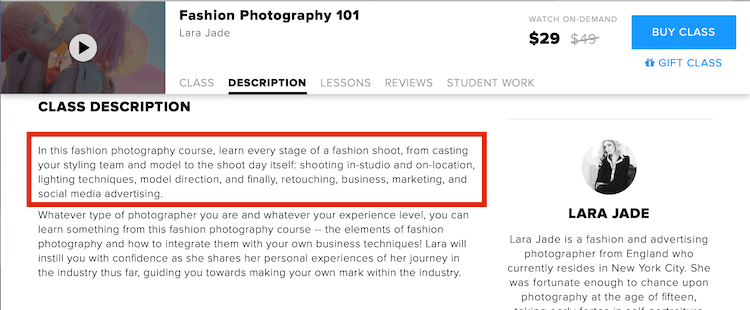 ual: offers pretty nice online short course with fashion and advertising photographer Darren Black. 4-week course on Thursdays evenings, price - £350.

SkillShare offers to access to 25,000+ classes for free within one month. We found these courses: "Fashion Photography: Using Natural Light for a DIY Shoot," "Introduction to Fashion Photography: Capture the Look".
Food photography
If you like food photography, we really recommend visiting First We Eat. Here you will find a number of offers for workshops in different countries (France, USA, Croatia, Ireland) and online food photography and styling courses with a photographer, stylist & writer Eva Kosmas Floresis.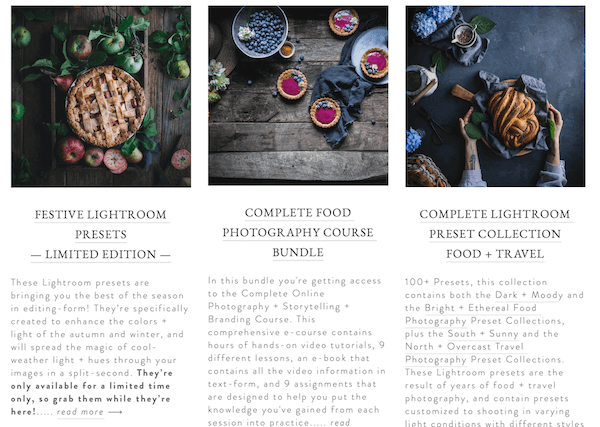 In these courses, you will learn: how to adjust your camera settings; how to choose which lens you need for which type of photo; how shooting with a full frame vs non-full-frame camera affects your image; how to manipulate natural light to create the mood and feeling you want your photo to evoke and many other things. Prices for online courses are from $60 to $499.
Look what we found: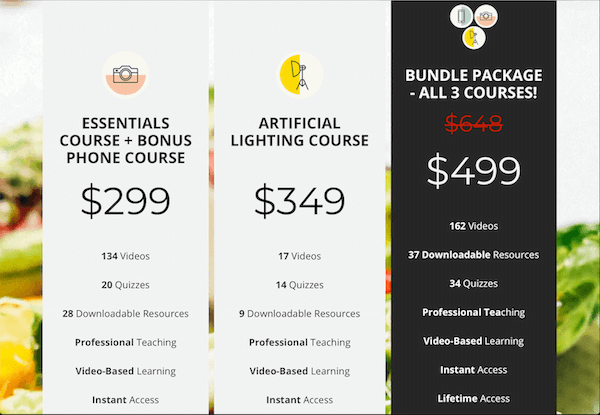 For online courses you can check: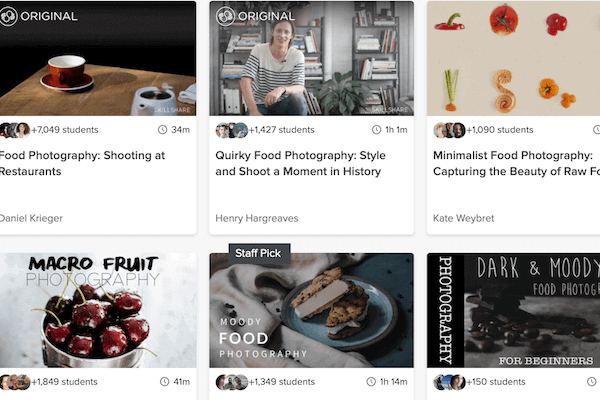 Landscape & Nature Photography
If you're interested in nature photography, we advise joining workshops with photographer Erez Marom. Workshops are organized in such fascinating places like Ethiopia, Israel, Faroe Islands, Namibia, etc. Look for example at workshop "Desert storm" in Namibia. During this workshop, participants will spend 10 days in spectacular locations: Quiver Tree Forest, Kolmanskop, Sossusvlei. They will have a night photography in Deadvlei, will see a fantastic view of the Milky Way's galactic core will have an open-door helicopter photography flight over the red dunes of Sossusvlei and more other things. Price for this workshop - €7090.
Here's many more: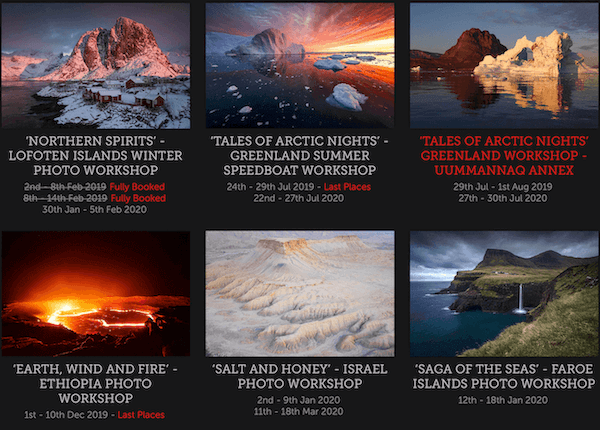 In Sea to Summit we found an offer for private 1-on-1 photography workshop with professional photographers Jim Patterson and Josh Cripps from California. During this course, you will take three-tiered approach to photography instruction: Philosophy, Theory & Technique. For more information, you have to fill out a request form.
For online courses, you can check:
New York Institute of Photography. They offer "Nature and Landscape Photography Course" during which you will learn everything about outdoor photography, what types of gear to use in every situation, how to work with natural light, and what times of the day make for the most compelling images. Price $59/per month.

In Kelbyone we found a course "The basics of landscape photography" with lightroom guru & landscape photographer Matt Kloskowski. Price for the membership - $9.99/per month.

Also check Photography Course, Udemy, CreativeLive, SkillShare.
Portrait photography
If you want to improve your skills as a portrait photographer, we recommend joining:
Portrait and lifestyle photographer Andrew French. At the private workshop, he teaches how to capture amazing images by seeing the light and learning to shoot the centenary daylight studies in the heart of Union Square, NYC. Personal groups are from 4 people, price of the 1 or 2 days workshop from - $495.

Photographer Frank Veronsky (look in Princeton Photo website). In workshop "Portrait Photography from Start to Finish" he teaches how to compose portraits to make them more interesting, how to capture the character of your subject and how to use outdoor and man-made light and backgrounds. The cost of the workshop – $395.
Also take a look at other possibilities: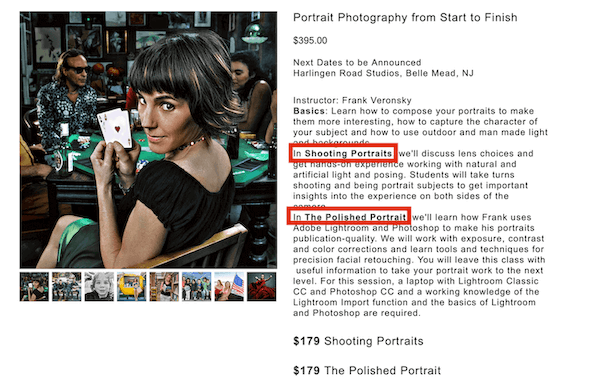 Tutor Ross Gamble (look in City Academy** website). A photo studio is in London, price of the workshop - £119.
For on-line courses check:
MasterClasshas incredible course - 15 video lessons with famous photographer Annie Leibovitz and access to all masterclass classes costs just €200/per year.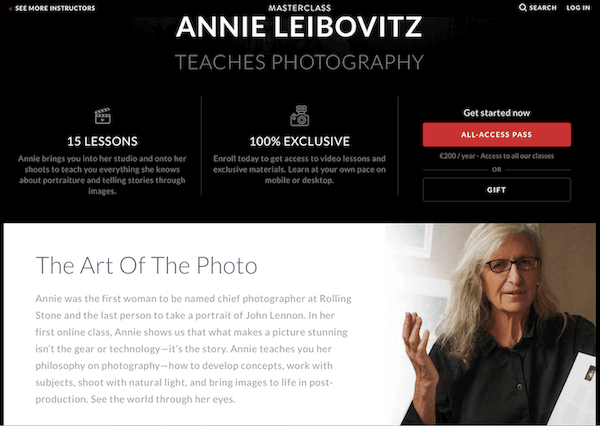 If you want to know all about the lighting of the studio, we suggest you the course "Light source" by photographer Karl Taylor. The cost of the course - $14/per month.

also check Udemy, SkillShare, Creative Live, etc.
Street photography
Now let's take a look at street photography or sometimes-called candid photography.
StreetSnappers is right to the point if you want to get skills as a street photographer. Brian Lloyd Duckett UK street photographer and his team Johannah Duckett and Alex offers immersive full-day workshops in London, other major UK cities or in European cities such as Venice, Lisbon, Prague and Paris. Look how many 1-day or 2-days masterclass workshops we found. Prices start from £95.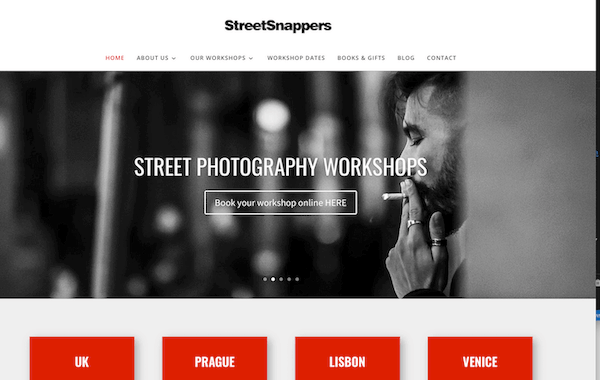 Princeton Photo offers a course "NYC Street Photography: The ABCs of the East Village" with photographer Josh Weiss, 3-hour workshop costs - $99.
For online courses check:
Wedding photography
In The Real Workshop you can find and offer to participate in RW-Excursions (mini workshops that focus on classroom teaching and live shooting classes). During them, you will have a possibility to shoot REAL couples. Workshops are organized in Salt Lake City (2-day workshop for $600), Tucson (4-day workshop for $1500).

PhotoManhattan offers the course, which will take you through the entire process of shooting wedding photography. There is possibility to choose between 5 sessions or 3 sessions for - $355.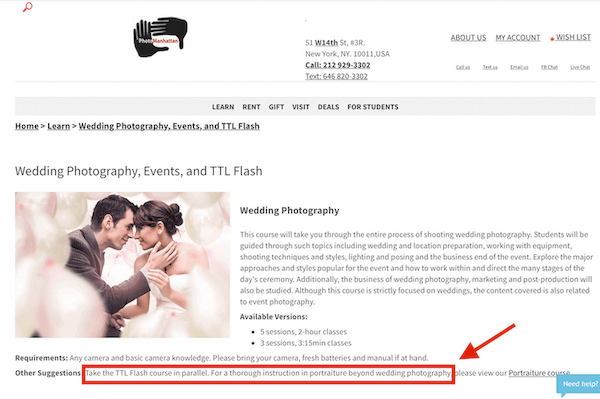 In Twig & Olive we found these workshops: "Consistent trust: a wedding photography workshop" - $695, "Pew-pew-pew-a-wedding-shootout" - $500, "Wedding E-workshop" - $400.
For online wedding photography courses check:
[Udemy](https://www.udemy.com/courses/search/?q=wedding%20photography&src=sac&kw=wedding, SkillShare and others.
Travel photography
Here's some: "India by Rail Photography Expedition" with photographers Jay Dickman, Ed Kashi, Jonathan Kingston (11 days from $13,190), "Bhutan Photography Expedition" with photographer Nevada Wier (11 days from $7,495), "Italy Photography Expedition" with photographers Massimo Bassano, Dave Yoder (10 days from $7,995), "Inside Japan Photography Expedition" with photographers Karen Kasmauski and Chris Rainier (11 days from $10,795).
Look at many more: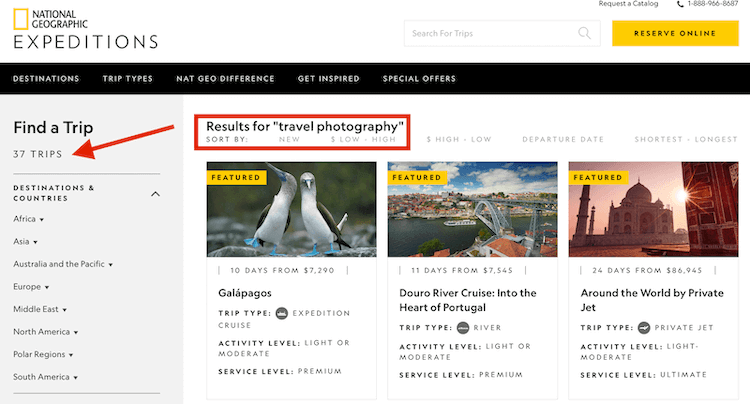 Pictours offers to join workshops in Portugal with photographers Rick Hulbert, Fernando Piçarra and Marion McCristall. You can choose: one day tours (in Lisbon, Sintra and Cabo da Roca, Monserrate Palace and Seascapes, etc.), private photography tours or scheduled tours (e.g. "Best of Tuscany" 8-days workshop, price - €3745).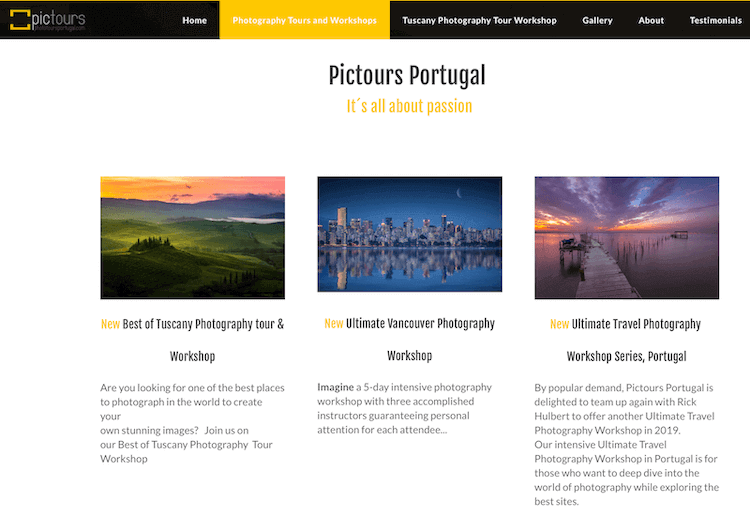 And if you would like to search for photography courses & classes, photography workshops, photography tours, etc. yourself, check here: