Looking for a Canon video camera and not sure which one to choose?
We did a small research and picked up more than 20 Canon video cameras for professionals, prosumers and consumers from the most to least expensive. Check the list we made (please note that these prices are subject to change depending on vendors, so make sure you check them out):
4 video cameras for professionals from $8,999 to $33,000
6 video cameras for prosumers from $2,999 to $6,999
14 video cameras for consumers from $344 to $2,699
Hope it can be at least something you can use as a starting point to find what you are looking for!
Cameras for Professionals
Look at this newly developed camera EOS C700 FF! Full Frame CMOS sensor records 5.9K with over sampling for exceptionally high quality 4K footage. Also Full Frame CMOS sensor offers low noise, wide color gamut, and a wide dynamic range of 15-stops for a natural look and greater freedom when grading.
Benefits:
5.9K Full Frame sensor
15-stops dynamic range
5.9K/60P raw up to 60FPS
ProRes Internal recording
Auto-focus Dual Pixel CMOS AF
HFR up to 168FPS in Full HD
HDR PQ and HLG monitoring
ND Built-in 10-stop ND filter
Here's a video from Canon presenting this flagship cinema EOS:
A flexible, robust and highly capable primary 4K Canon EOS C700 camera for drama, independent film and documentary that is configurable for multiple production workflows, including support for HDR monitoring.
According to Oscar-winning cinematographer Russell Carpenter:
The biggest takeaway from shooting with the C700 at high altitude during midday light was the incredible 15-stops of latitude and range the camera sensor sees.
Benefits:
Up to 4.5K/120P
Internal recording
Dual Pixel CMOS AF
Up to 240FPS in Full HD
PQ and HLG monitoring
15-stops dynamic range
Built-in 10-stop ND filter
And here is a video introducing EOS C700, which is designed to be a flexible "A" camera for any type of shooting scenario:
The innovative ME20F-SH full-frame Full HD video camera delivers ultra low-light performance and infrared capability at an unrivaled sensitivity of over ISO 4 million. It's ideal for low light location work, whether on land or underwater.
Benefits:
Full-frame 35mm 2.26 Megapixel CMOS sensor
mind-boggling ISO range from 800 (0dB) to over 4 million (+75dB)
Full HD 1080p/720p output
12 stops (800%) of Dynamic Range
Frame rates up to 50p/59.94p
DIGIC DV4 processor
6 custom pictures files for later use
weight just 1.1kg and measures approximately 102x116x113mm (wxhxd)
To see what results you can get with the ME20F-SH, take a look at the videos in PetaPixel made by cinematographer Andy Casagrande.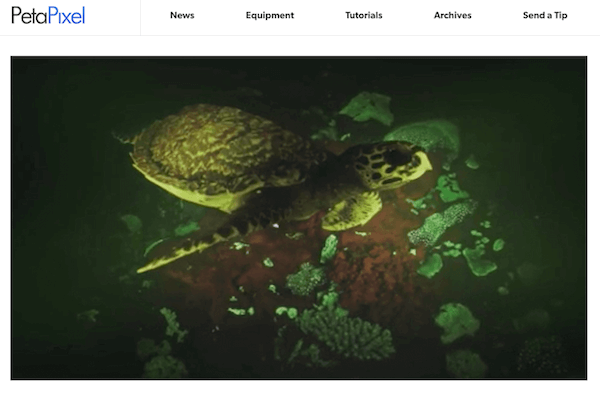 The Canon ME20F-SH lowlight camera enabled him to capture remarkably sharp underwater scenes with great color of the turtles.
Watch this video for a more in-depth overview of the ME20F-SH:
EOS C300 Mark II (replacement for EOS C300) captures stunning 4K/Full HD video with an incredible 15 stops of Dynamic Range, external RAW output and Canon Log2 to help realize your creative vision.
Benefits:
4K image capture in Full HD
High Dynamic Range images with Canon Log 3 (up to 14 stops), Log 2 (up to 15 stops), Log (up to 12 stops) and Wide DR Gamma
Dual DIGIC DV5 processor
EVF-V70 viewfinder, with a wide color gamut, from its 1920x1080 pixel OLED screen
dual internal CFast 2.0™ memory cards
Dual Pixel CMOS AF with 80% vertical and 80% horizontal coverage, Face Detection AF (with compatible lenses) and auto white balance
Up to ISO 102,400 range
LPCM 24-bit/48 kHz audio
As award-winning director and cinematographer Jonathan Yi said:
The C300 ISO performance destroys every camera out there, including the Alexa.
Here is the full video:
Canon EOS C300 = Awesome from Jonathan Yi on Vimeo.
Cameras for Prosumers
A professional handheld 4K UHD camcorder XF705 with the latest HEVC codec enables high quality internal UHD HDR recording or output for the broadcast and production industry.
Benefits:
4K UHD 4:2:2 10-BIT
HEVC New XF-HEVC format
12G-SDI 4K with single cable
HDR HLG/PQ
AF Dual Pixel CMOS AF
120P in full HD
Canon Log 3
15x wide L-series lens
Check this video to have a better idea about XF705:
The new EOS C200 is a compact and versatile high-performance camera for a wide range of shooters that captures sharp 4K 50P images.
Benefits:
Cinema RAW Light
Dual Pixel CMOS AF
120P in Full HD
CFast 2.0TM/SD cards
Up to 150Mbps
Up to 10-stops
WiFi and Ethernet
In the Kenny McMillan opinion (Kenny is the founder and sole proprietor of OWL BOT Digital Cinema) opinion:
The C200 should be on the top of the list for an independent filmmaker, high-end content creator, or any one of similar ilk.
Here is the full video:
Camera ME200S-SH is the baby brother to the super high ME200-SH, for an affordable price! ME200S-SH is highly adaptable video camera with Dual Pixel CMOS AF on a Super35mm sensor delivers stunning Full HD footage at up to 50P/59.94P with an incredible 12-stop dynamic range, up to a maximum equivalent ISO of 204,800.
Benefits:
High quality Full HD output
Great low-light performance
Advanced autofocus and image controls
Easy remote setup and installation
Flexible configuration
For a better understanding about ME200S-SH watch a video made by cinematographer, producer and filmmaker Bart Johnson:
Camcorder XF305 - $3,699
Professional camcorder XF305 is compact, robust and powerful, marrying practicality and creative flexibility with high-end performance.
Benefits:
MPEG-2 MXF recording to CF cards at up to 50Mbps (4:2:2)
Comprehensive NLE support
18x wide-angle Canon L-series lens
3 x 1/3 type full HD Canon CMOS sensors
HD-SDI, Timecode, Genlock
10.1 cm LCD (1.23M dots); 1.3 cm (1.55M dots) EVF
Variable frame rates
Here is a video where Pro Motion camera tutorial Alain talks you through everything you need to know with this camera.
Camcorder XF405/XF400 - $3,199
XF405/XF400 (replaced XF205) is ideal for newsgatherers looking for a small, light camcorder with network capability for FTP transfer plus remote control.
Benefits:
4K/50P 4K UHD AT 150MBPS
1.0-Type CMOS Sensor
100P High Frame Rate
15x Zoom Wide 25.5MM
Auto-focus Dual Pixel CMOS AF
800% Wide DR
ND Filters Built-In
3G-SDI Full HD
If you want to learn about the benefits of this camera, sensor, processors, inputs, outputs, recording capabilities, Dual Pixel Autofocus, touchscreen LCD, and zoom lens, check this video:
EOS C100 Mark II (replacement for EOS C100) is perfect for single people video production, the EOS C100 Mark II allows you to achieve your boldest visual ambitions. This intuitive camera offers next level Cinema EOS imaging performance and genuine creative freedom.
Benefits:
8.3MP Super 35mm CMOS sensor; Full HD
Dual Pixel CMOS AF and Face Detection AF*
ISO 102,400; low noise
Dual Format AVCHD/MP4 recording up to 1080/60p
OLED display; improved EVF
Built-in Wi-Fi and remote control options
HDMI output
EF lens mount
Professional audio
CPS video support
And if you want an answer on whether it's still worth buying, check out this video:
Cameras for Consumers
Professional Camcorders
Here we picked up professional HD ultra-compact, professional palm-sized XA, HF, XC series camcorders. Look for example at the highly compact and lightweight XA55 / XA50 camcorder. With it you will shoot high quality 4K UHD image. Other beneficial features such as Dual Pixel CMOS AF, Canon 15x optical zoom lens and advanced full HD image quality driven by utilizing outstanding Over Sampling HD Processing. Also take a look at the other camcorders in Canon's website.
Camcorders for Vloggers, YouTubers, Documentarians
The LEGRIA HF G range packs advanced technology and extensive creative controls into a handheld, easy-to-use camcorder that's ideal for vloggers, YouTubers, documentarians and indie film-makers. With these camcorders you will be able to create stories in incredible 4K quality. These camcorders have Dual Pixel CMOS AF focusing, 100fps Full HD slow motion, wide DR and dual card slots. Also the prices are very attractive!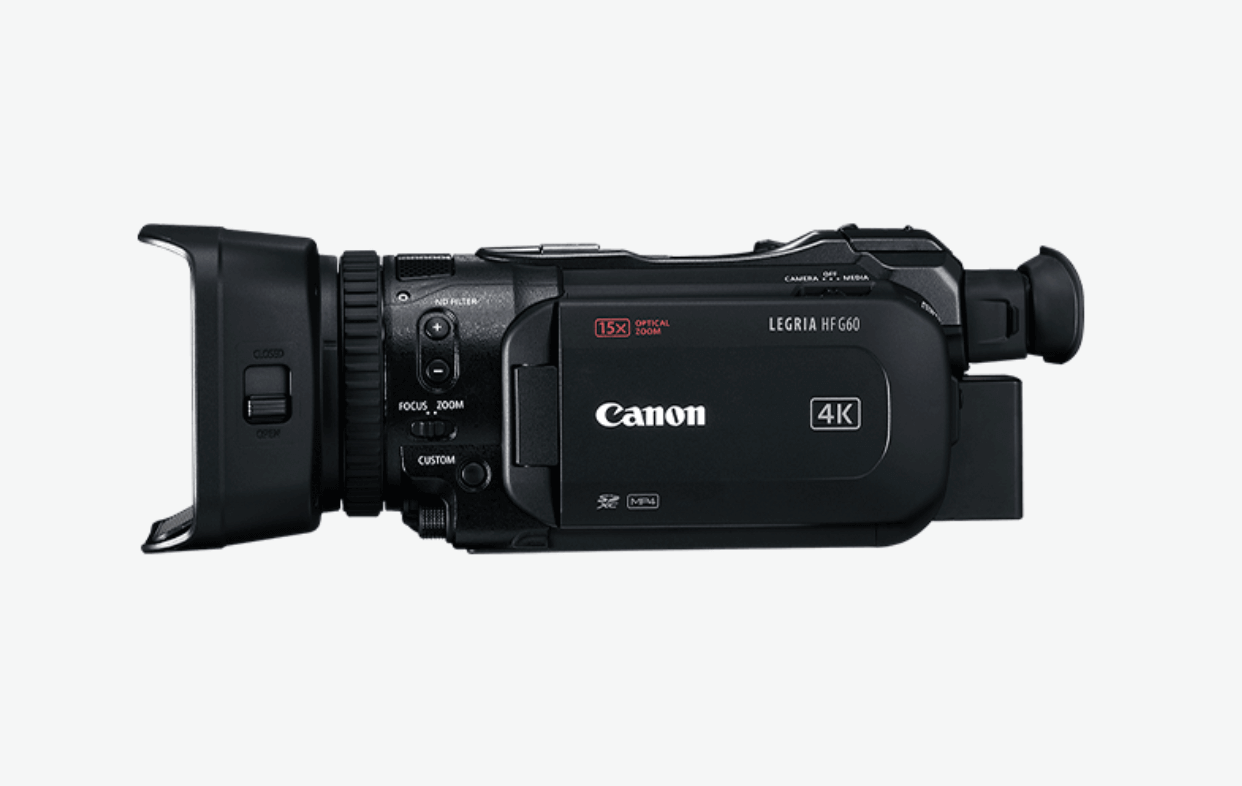 Camcorders for Family Occasions
If you want to shoot beautifully steady Full HD movies these LEGRIA HF R camcorders could be perfect solution for you.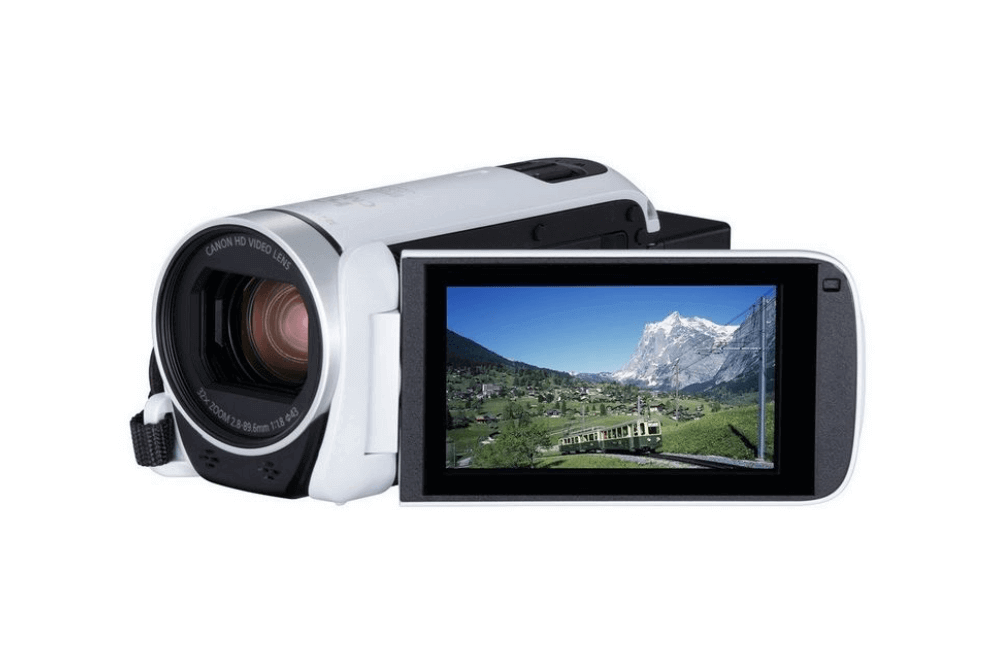 It's funny and easy to use them, they have a big 57x Advanced Zoom simple touchscreen control and powerful technologies that automatically ensure your family movies look and sound great.