Whether you're working as a self-employed or looking for a permanent job, we've created a list of major job offers websites where you can search for a photographer's job.
What we did - we searched and we quite surprised by the result! We've found many really good deals for various photographers (see below).
So these suggestions can be at least something you can use as a starting point to find what you are looking for!
LinkedIn
LinkedIn has a lot of interesting job offers, within 5 minutes research we found jobs paid $100 per hour, so if we found that maybe you can find these jobs too. Here's what we did:
First get to Linkedin's job offer section:
Then filter the jobs by keyword (e.g. photographer, or videographer, feel free to try everything…):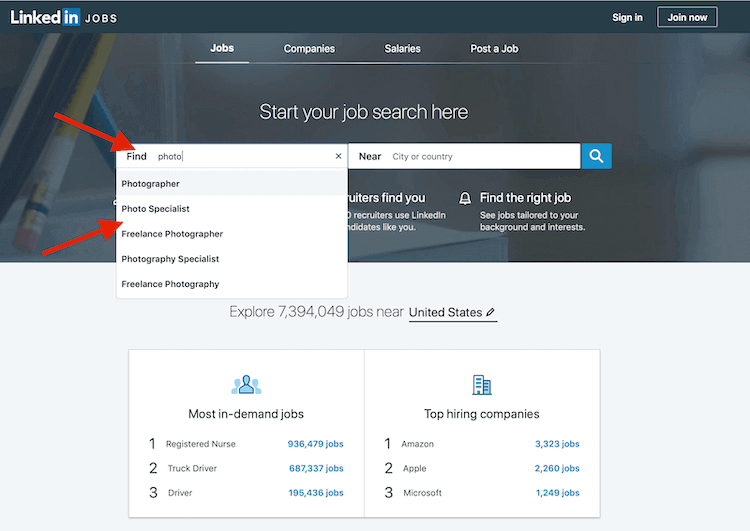 Then filter by your country, LinkedIn has job offers from all around the world so feel free to filter by country and by city if it's necessary: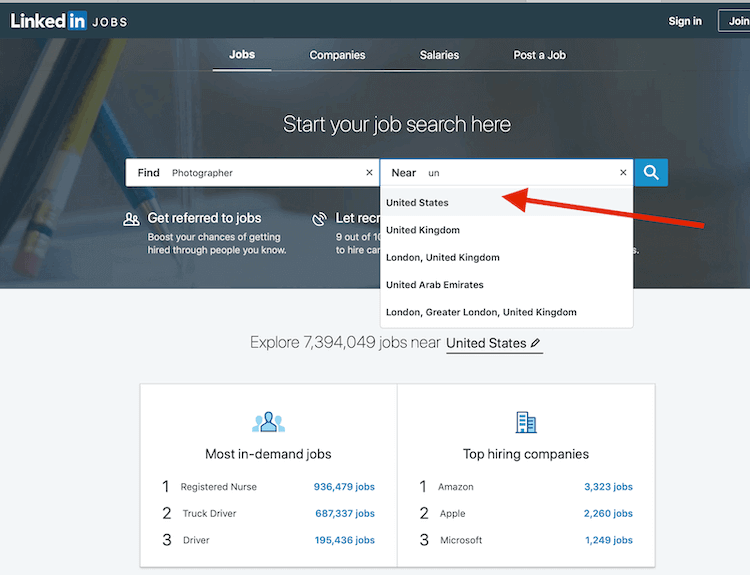 Check out this great offer for Wedding Photographer's. It's paid $100 per hour, so pretty nice earnings: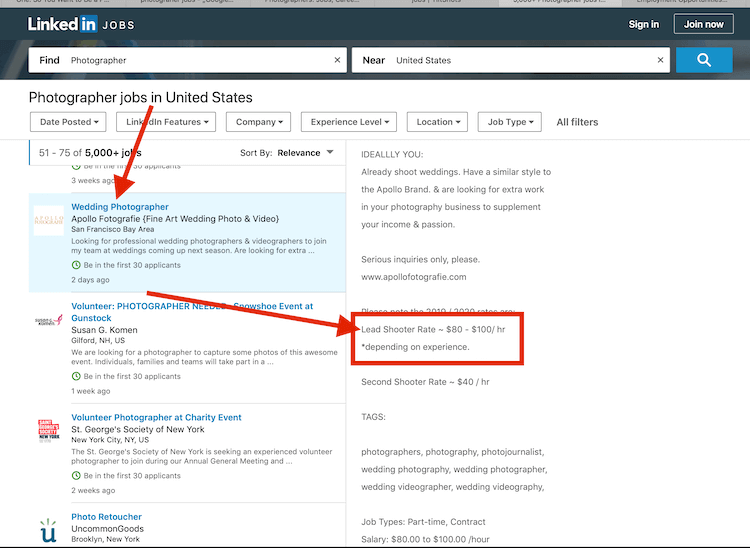 Also note that LinkedIn has a lot of filters available (e.g. by company, experience level, job type, etc.), feel free to experiment with them. One nice is to filter by jobs who had fewer than 10 applicants so you have more chances to have attention at least: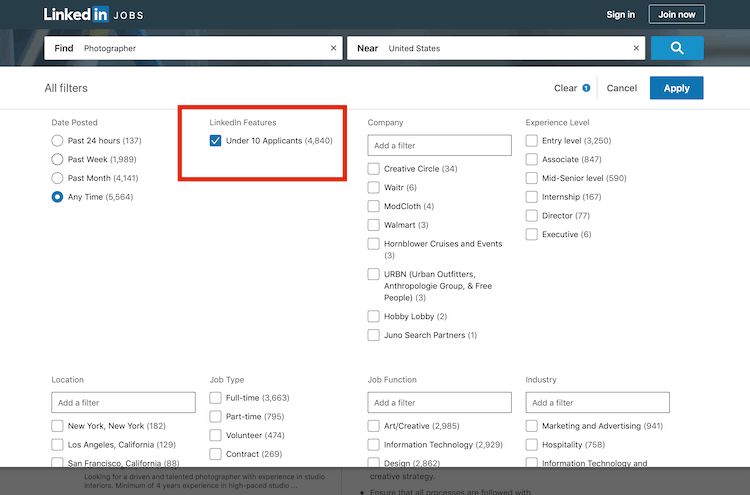 Indeed
Indeed is also a big platform to find job offers. Here's an example of a Campus Job Offer for a Photographer, paid between $2923 and $5417: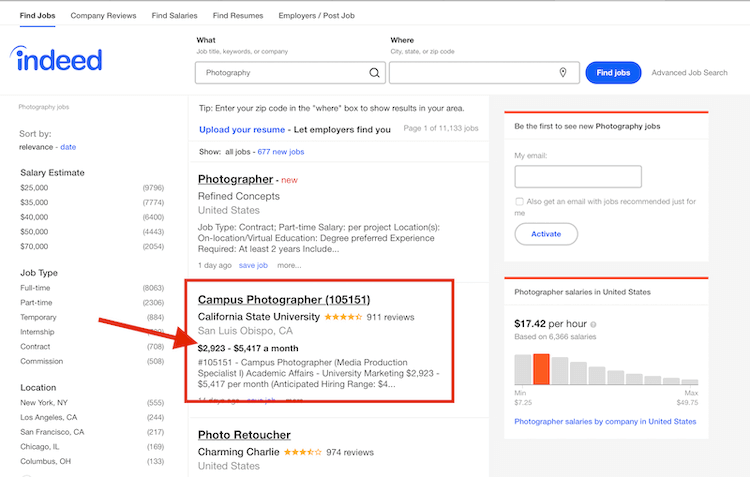 Glassdoor
Look what a job offer for a Staff Photographer we found in Glassdoor. Employer is a leading digital media-tech company. Job location is in New York, duties - to work with writers and designers and bring stories to life. Salary $16-$24 per hour.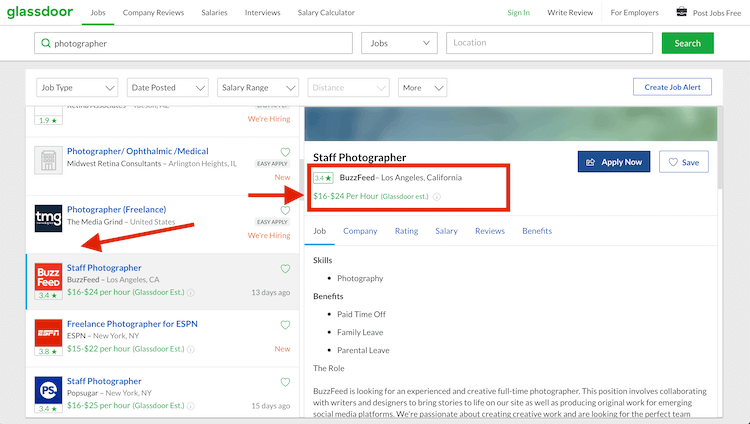 Upwork
Pretty interesting offer in Upwork we found for a photographer who could take lifestyle and streetscape shots (195 neighborhoods and communities) for the budget - $6.8K.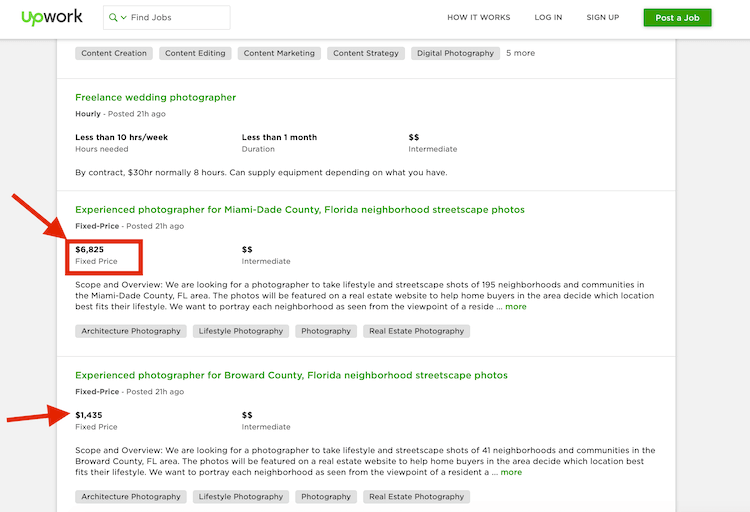 The Guardian Jobs
In The Guardian Jobs we found a proposal for the Photography & Image Coordinator. Workplace is in London. Annual contract for £28,000 - £34,000.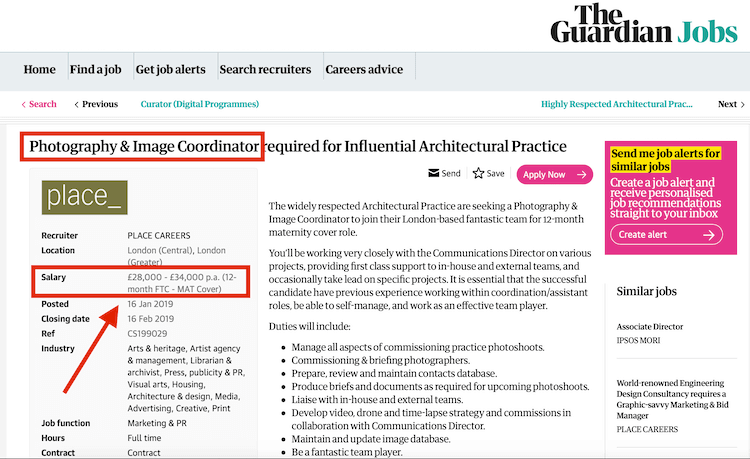 NaukriGulf
For photographer jobs offers in UAE, Qatar, Saudi Arabia, Kuwait, Oman, Bahrain you can simply search in NaukriGulf. We found a good one for Fashion Photographer in Dubai. International experience and high creativity are preferred.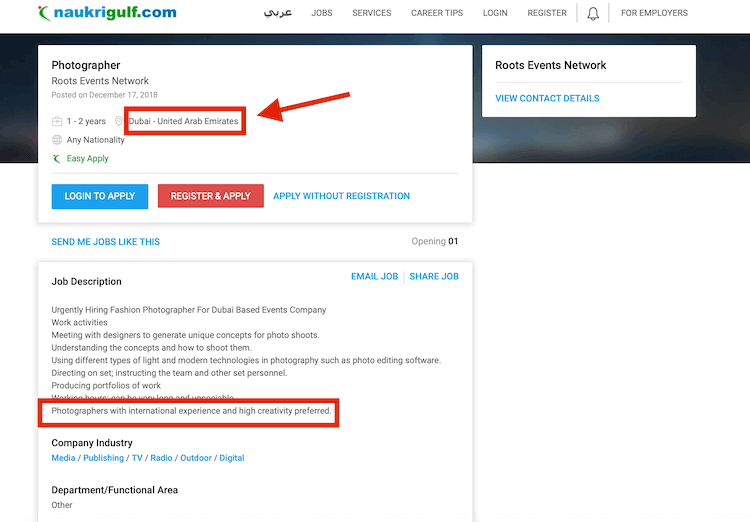 Naukri.com
For jobs in India, you have to look in Naukri.com. We found an offer for E-commerce Photographer. Main task - to take pictures of models, mannequins, etc. The contract is for two years, salary $21-$28 per day (Rs.1500-2000 per day).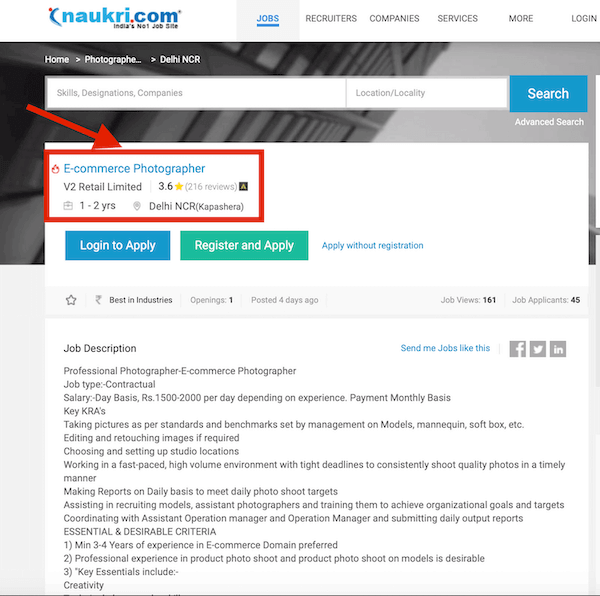 Freelancer
See what an interesting offer you may have ever thought, we found in the world's largest freelancing marketplace Freelancer. The employer is looking for a Bed and Breakfast photographer. The skills you need are to know how to work with 3D modeling, 3D rendering, etc. The contract price starts at £ 20 and can be £ 250.
The Freelancer has about 20 million employers and freelancers, so it's really worth try it!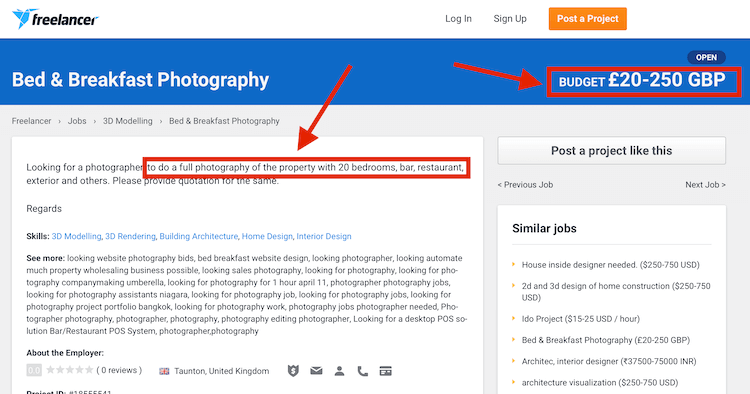 Other websites where you could check for photographer's job are:
If you don't find anything that meet your needs in the websites above, you can always contact the employer directly. Here we made a list of the main photographer's employers:
TV / Newspapers / Magazines / Catalogues
advertising agencies
hospitals / medical publishers
museums / art galleries / libraries / universities
auctions
authorities, for example police hire forensic photographers
cruise liners / travel companies / different entertainment parks
businesses organizations
charity organizations
And if you are looking for a real estate / architectural photographer job and curious how much money you can earn be sure to check our article here.
Also take a look at these books how to write a good CV and prepare for the interview: