Have you ever wondered who is a videographer and what he / she is doing? How to become a videographer and why can this job be amazing?
Here, we've made practical guidelines describing who is a videographer, whether his / her work is different from the cinematographer also the skills needed for a videographer and why this job can be attractive. And if you are looking for a photographer job check our article.
Who is a videographer?
Simple term - the videographer records moving images and sound in different devices and videography is the process itself.
Look at this funny video to have a better idea


So everyone who records:
life events such as weddings, birthday parties, christening, bachelorette parties
commercials and training videos for a company
documentaries
short films
music videos
reality TV productions
real estate videos
etc.
Could actually be called a videographer. In addition, YouTubers who record everything and everywhere can be called videographers.
And what about cinematographers? Do they do the same as videographers?
It's pretty clear that cinematographer makes cinema, but today videographer also makes short films. So if they both do the same, what is the difference between these two professions?
Simple explanation can be that:
Videographers record smaller events (weddings, reality TV productions, short films, etc.) and work solo or with a small team. They also manage with sound, lighting, video editing.

Cinematographers work in film or television production with a large crew. The famous American cinematographer Rachel Morrison described her work like this:
"The cinematographer's basically translating the director's vision into imagery."
So it's pretty clear that difference between these two professions is and you are free to decide which one is close to you.
Skills needed to become a videographer, core functions
If you look at the job offers, you will find that employers who are looking for a videographer usually indicate that the candidate must meet the following requirements:
have a education: college degree or Bachelor's Degree in Photography, Videography, Communication, Journalism, Marketing or relevant field
software knowledge e.g.: Adobe After Effects, Adobe Premiere Pro, Final Cut Pro X (Mac) Photoshop and Illustrator
experience with the camera including exposure, lighting, composition and audio
personal skills: be dynamic, organized, responsible, creative, innovative thinking person
Employers also point out that the videographer will have to:
create videos of different products / services
produce videos for e.g. to different social networking sites e.g. YouTube, Instagram, Facebook LIVE, Twitter
edit videos, select music and design digital video effects and graphics in creating a finished product
collaborate with various people or specialists e.g. marketing team
travel to assigned location and work independently
etc.
And look what a fairly good salary for this job - $45,000-60,000 per year is offered…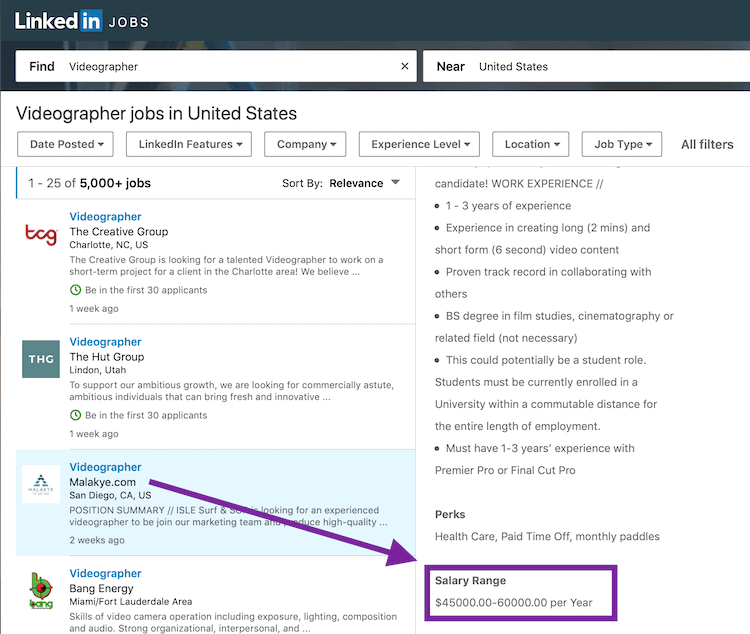 Also look at the other benefits we found in job offers, which could be the point of negotiation for a videographer's position:
health, dental, vision, life & disability insurance
flexible spending plan
identity theft plan
generous paid holidays, vacation & sick time
relocation assistance
ownership opportunities
early-out Fridays
maternity / paternity leave
snacks, lunches, retreats
etc.
Day-to-day life of videographer
The daily life you could have as a videographer depends on the type of video production you choose. Different sources provide a different number of videography types, here we got the most common:
Event / Entertainment Videos are one of the most famous types of videos. Examples of event / entertainment videos: wedding videos, music videos, birthday party videos, comedy shows, reality shows and others. So if you will focus on this type of videography, you can easily build your own business and be successful. This can be a wonderful job because it allows meeting different people, record different situations. Also it doesn't require any specific formal education.

Documentary Videos. Examples of documentary genres: nature documentary, travel documentary, animated documentary. What makes documentary videographer job amazing is that it allows him / her to travel a lot.

Educational Videos: webinars, online courses, animated explainer videos… Also there are a number of different educational video formats, e.g. "Talking head", "On Location Lecture", "Interview", "Light Board Video" (for more look at the University of Michigan website). So if you choose this type of videography, you will have the opportunity to work with the widest audience from children to adults.

Advertising / Promotional Videos: testimonial videos, product demonstration / review videos, presentation videos, real estate videos, etc. Who wouldn't want to create promotional videos for world-famous brands, like Amazon, Samsung, Sony, Canon participate in advertising events? It's just an idea, you pick up…
So, as you can see the work of a videographer, it is amazing because it is very diverse, requires a lot, but also offers a lot! It is actually part of art!